At Barker Insurance Brokers, our Personal Insurance Underwriting team spends a considerable amount of time helping clients to manage their risks - Not only making sure clients cover is correct and adequate but also applying a pro-active approach to insurance and taking preventative measures to prevent and minimise claims. Vehicle Security being the top of that list.
After being in the industry for 44 years, Barker Insurance have tried all the different types of vehicle security: from back in the day where gear locks and steering locks were the must-have anti-theft deterrent, to Vesa Immobilisers with Anti Hijack buttons, and finally to present times where Tracking and Recovery devices are essential.

Tracking and Recovery devices have also evolved over the years; some devices keep getting better and better and others simply just fall behind. When testing a new security product we try to ensure the device will be the best and most effective device for our clients, remain cost-effective, and will keep our clients one step ahead of the car thieves. Years and years of products and testing have got us to where we are now. Our own Company Driver, Stanley, has had over seven different devices in the company vehicle. Needless to say, we will never lose him.

Beame recovery device is by far the BEST device on the market. It is a very simple device, but far exceeds any competitors in the same category. Beame has consistantly improved and bettered their technology to remain a step ahead. One of Beame's greatest assets is that it works with the Matrix/Mixtelematics network of vehicles, which is a massive network of vehicles throughout South Africa. Every vehicle country wide, with a Matrix MX2 or Matrix MX3 unit installed, works as a mobile tracking beacons to Beame devices, creating so many more tracking positions than your average recovery device.

It is imperative that you ditch the old, dated tracking units and install a Beame today. Let's be honest, why do we all use iPhone and Samsung cellphones, or have smart TV's: because they have the best technology. We could have easily stuck with Nokia or Blackberry, or your plasma TV, as they work, but are you getting the best technology? The answer is NO. And when it comes to recovering a valuable asset like your car, surely you want the best technology, combined with value for money.
The Barker Insurance Underwriting team has been working closely with Beame to check units, replace old units, install double units in high risk cars and convert vehicles with old, outdated technology to Beame.

All Barker Clients qualify for our special Barker Beame and Matrix pricing. All devices are installed FREE OF CHARGE with no contract, by our preffered mobile installer (where possible). Simply contact your Barker Insurance Consultant and request an installation in one or all your vehicles. We will arrange for Beame/Matrix to get in touch with you and arrange a convenient installation time. Monthly pricing (incl VAT) is as follows:
• Single Beame Unit – R79 per month, NO 36 month contract, free installation.
• Double Beame Units – R99 per month for two units as opposed to R158, NO 36 month contract, free installation. A MUST for high risk vehicles!!
• Matrix MX3 Unit including Free Beame – R199 per month, NO 36month contract, free installation.
Barker Insurance are able to include the monthly Beame or Matrix tracking fee with your vehicle insurance premium as opposed to having a separate debit with Beame/Matrix directly. Please contact your Barker consultant to find out how to convert this.

There are many benefits to having tracking in your vehicle, however it is important that you know all the ways this can affect your insurance, to ensure you have no problems in the unlikely event of a claim.
If you are receiving a tracking discount (±25%) on your vehicle premium for having a tracking device installed, it is imperative that you comply with the following:
• The tracking device is installed – If you add a vehicle to your policy that requires a tracking device due to your policy requirements, and the device is not installed or never installed, there is NO THEFT COVER on your vehicle.
• The tracking device needs to be installled within 7 days – If you add a vehicle to your policy that requires a tracking device due to your policy requirements, and the device is not installed within the 7 days warranty period, there is NO THEFT COVER on your vehicle. If there is a problem arranging an installation, please contact our offices for an extention on this warranty.
• The tracking device must be operational – It is advisable to check your tracking unit every 3months to ensure the device is still working, and if it is a battery operated unit, that it has a strong battery indication and signal is being received. If your device is installed, but NOT operational, there is NO THEFT COVER on your vehicle. Battery operated devices have a shelf life of 1-3years. Please contact Barker Insurance to arrange for a replacement to be installed if your unit is not working.
• The tracking subscription is not cancelled if your vehicle cover is still active – If a vehicle is still active on your insurance policy and requires a tracking device due to your policy requirements, and you have cancelled your tracking subscription and not replaced with another device, there is NO THEFT COVER on your vehicle.
• Toyota Fortuner, Toyota Hilux, Ford Ranger and Volkswagen Polo owners be warned - Your vehicles are hot ticket items and the Christmas shopping season has already started. It is a Barker Insurance requirement to have a Double Beame device in these vehicles due to their high theft risk. Please contact our offices to arrange an installation if you have not already been contacted.
Understanding the diffence between a tracking device and a recovery device
Get techno-savvy and download the Beame and Matrix App's from your iPhone or Android App store, to make checking and tracking your vehicle, as simple as the click of a button: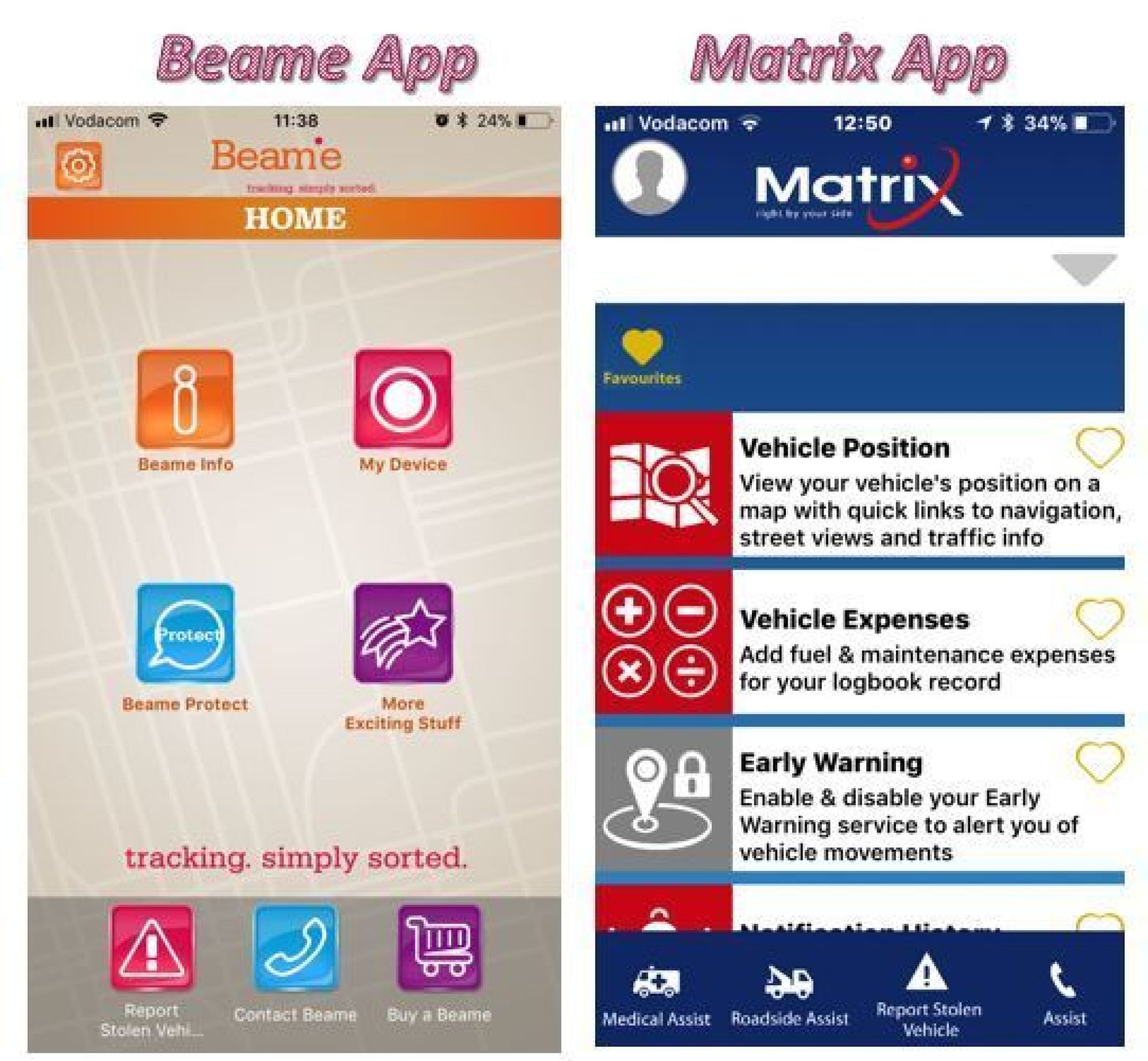 The Beame App (Recovery device) allows you to check your devices battery status and active status, request a copy of your tracking certificate, request a call and report a vehicle stolen.
Matrix App (Tracking device) allows you to live track your vehicle, whether is a company vehicle, your childen or spouse, or simply checking on your vehicle if you are out of town.

With the alarming rise of vehicle thefts and hijacking country-wide, we all need to understand the importance of having an operational tracking device installed in your vehicle. With the rise in general and motor costs, and car owners having to dig even deeper into those wallets to keep up with increasing fuel costs, monthly installments and maintenance, many may question if a vehicle tracking device is as beneficial. Here's why…

Did you know that your vehicle premium has been discounted by ±25% if you have a tracking device installed?

Our cars become part of our lives. We take care of them, we name them, we polish them, we take selfies in them. For many, replacing a car in the event of a total loss would be very difficult. If something happens to it, you want chance of having your baby returned to you, safe and sound. Being wihout a car is a huge inconvenience but having to hunt for a replacement one is a just a schlep.

Most top of the range tracking devices come with a panic button or early warning. Maybe you are a Mom with children, or have a habit of getting lost and landing up in dodgy areas; this gives the peace of mind that if there is a problem, help is one push button away.

At Barker Insurance Brokers, we reward being pro-active. Having a tracking device fitted to your vehicle means, in the event of vehicle theft, attempted theft or hijack, you pay NO EXCESS.

We care about our clients, and have negociated free mobile tracking installations for Beame and Matrix's products, with the lowest monthly subscriptions in the market. (See details below)

If you install a Matrix MX3 unit, an automated emergency message will be sent to the Matrix Call Centre following any accident in your vehicle and a medical emergency team will be dispatched to the accident scene.
Hijacking results for South Africa were recently released and show alarming statistics: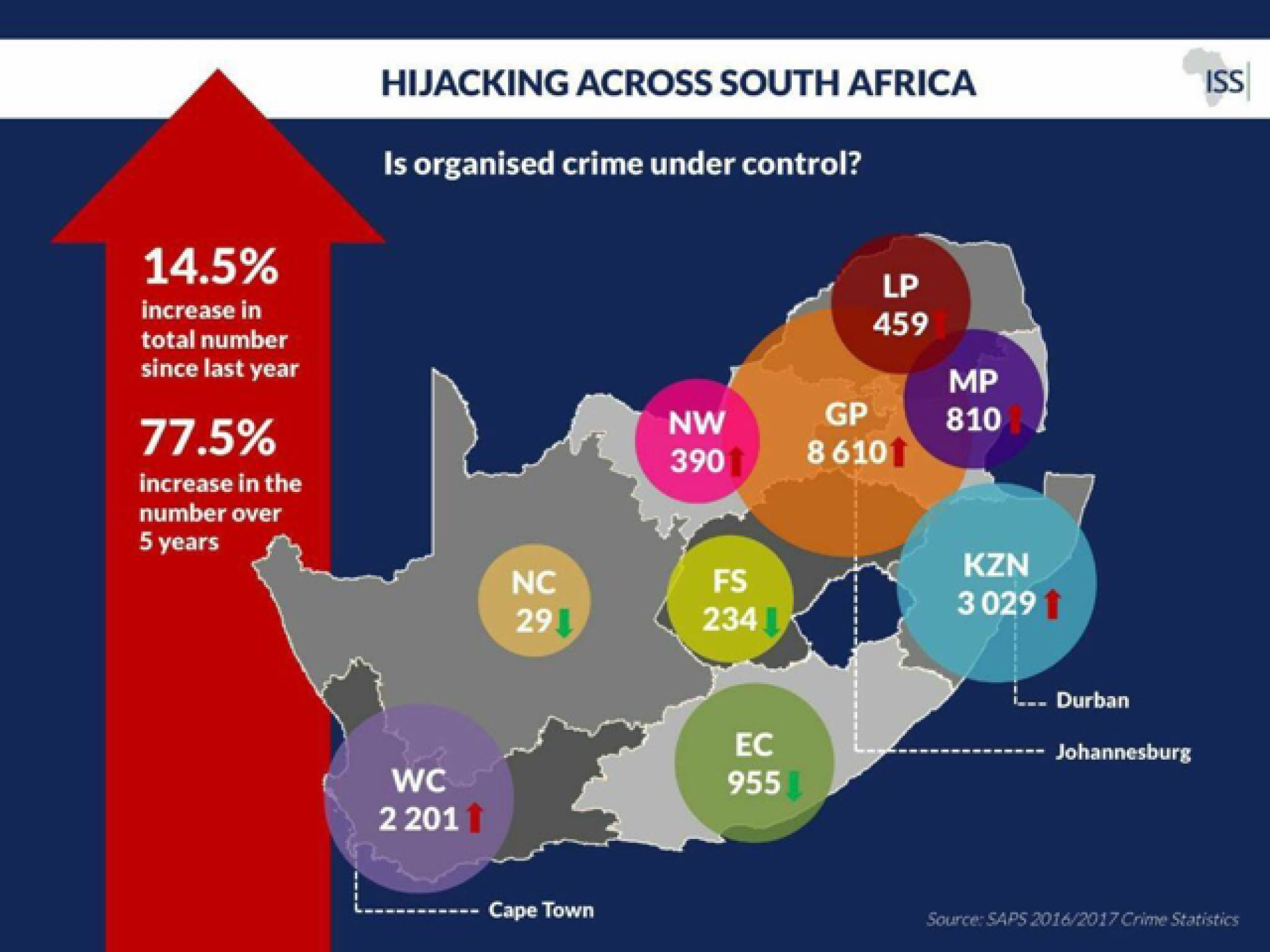 For further information on tracking devices, your policy tracking requirements, installing new tracking or upgrading your existing devices, please contact your Barker Insurance Consultant.