We recently received a claim incident from one of our Barker clients where their vehicle was stolen and subsequently recovered. The vehicle was fortunately fitted with a Beame recovery device – a device which can be easily included in your Barker policy – and this proved highly effective in recovering the vehicle.
According to the incident report, the vehicle was stolen at 15:00 from a hospital parking lot in Johannesburg. The client reported the vehicle stolen at 18:05 when returning to find it missing. At 18:55 the Beame recovery team recovered parts of the vehicle. This demonstrates how quickly a vehicle can be taken to pieces: within a mere 3 or 4 hours, this vehicle was essentially unrecognisable (Photo below).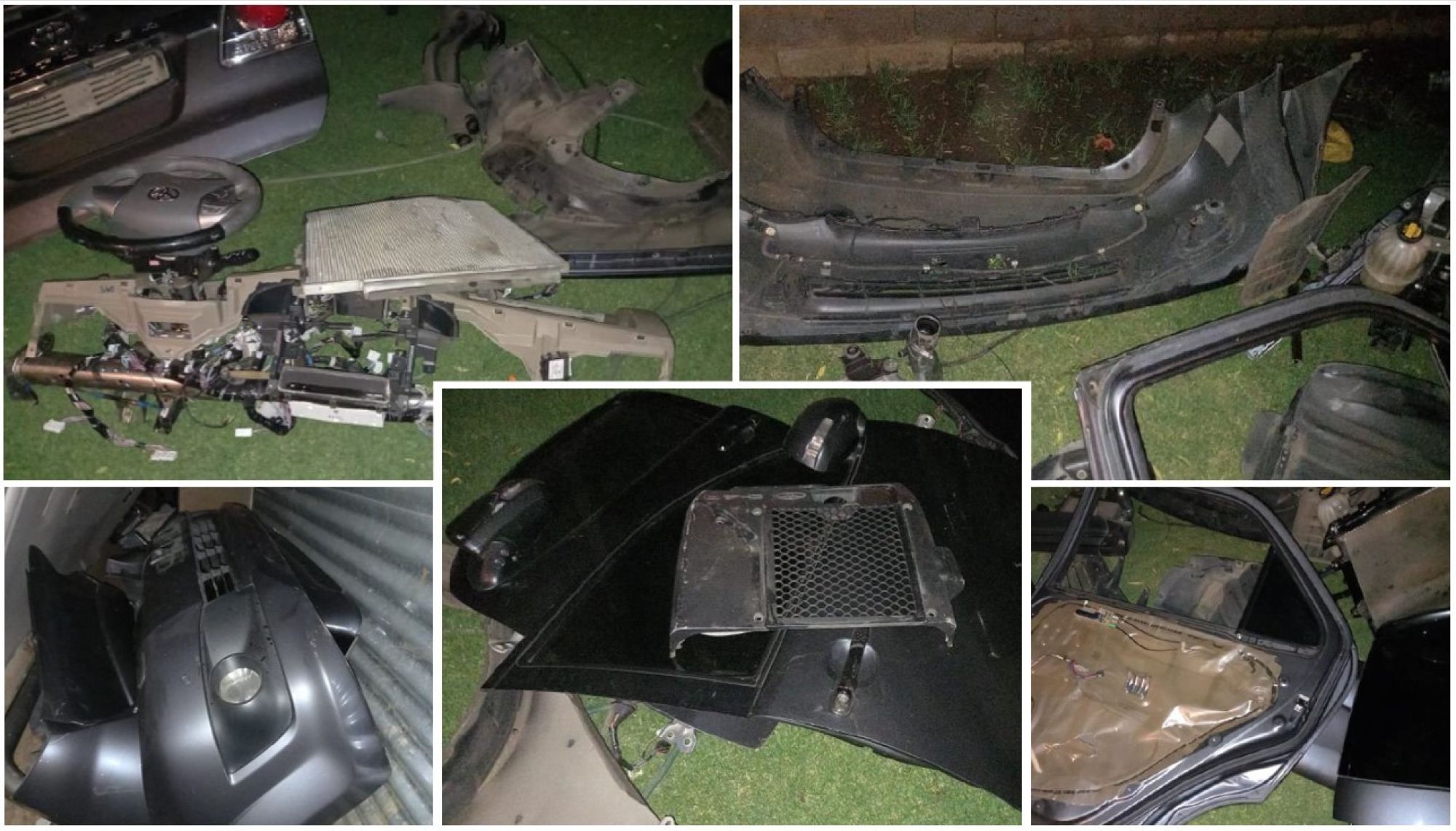 The vehicle was fitted with two Beame units, which are recovery devices that require the client to call to alert MixTelematics of vehicle theft. These units are different from the MX3 detailed below, which is a full tracking and recovery device, which can provide "Early Warning" alerts.
The timeline above clearly demonstrates the importance of the "GOLDEN HOUR" – a term used by tracking companies for the first hour that proceeds a vehicle theft. Should the theft be reported within this first hour, they will have the best chance of recovering the vehicle in question. That is why it remains imperative that vehicle thefts be reported as soon as possible.
What to do in the event that your vehicle is stolen?
1. Contact your tracking company immediately.
The quicker this is done the better the chance of your vehicle being recovered.
Ensure that the emergency contact number for your tracking company is saved on your cellphone.
Save this contact as something easy to remember or search for as there is a good chance you may be panicked if your vehicle is stolen or you are involved in a hijacking.
2. If you don't have your tracking companies contact details, Call BARKER INSURANCE immediately.
The Barker Team will check your policy and contact the relevant tracking company on your behalf and report the vehicle stolen. Again, the quicker this is done, the better.
3. Report the Stolen Vehicle to the Barker Insurance Claim Team.
Once your tracking company has been contacted, report the theft to the Barker Claims team. They will then communicate the status of the vehicle recovery with the relevant tracking company as well as prepare your claim and guide you through the claims process.
It is important to note that there is a "Crash Alert'' for all clients who install a BARKER MX3 tracking device.
The MX3 device is the most advanced tracking unit of the Matrix range. All MX3 units are fitted with an impact sensor that automatically sends an immediate signal to Matrix if a vehicle is involved in an accident. After assessing the situation, help will be dispatched to the precise location of the vehicle using the GPS coordinates from the Matrix unit. Matrix's Crash Alert feature provides peace of mind that emergency assistance is always at hand when you need it most.
Coincidentally, this Easter weekend, a Barker client reported to us that she was contacted by Matrix to inform her that they had received an alert that her vehicle battery signal had been lost and had possibly been tampered with. On inspection, she discovered that her car battery had been removed as well as the house's gate motor. As the alert came through so promptly, the transgressor was caught, and both the battery and gate motor secured.
Remember to have the working status of your tracking device checked frequently to ensure that it is efficiently operational at all times.
Modern tracking systems are considerably more than just devices for recovering your vehicle. They assure you that your loved ones are safe when on the road, providing you with peace of mind – and that it is invaluable! What's more, tracking system companies have integrated smart technologies into their products, offering additional such as location-based tracking, in-app car-guard, license reminders, and roadside and medical assistance, to name a few.
To ensure you're able to rest easy, Barker provides free installations for Beame and MX3 devices. What's more, the device is installed by a professional mobile fitter at your preferred location, and the system is then charged through your Barker policy, making the whole process quick and convenient.
Should you have any queries, please give your Barker consultant a call.
FYI:
According to Barker Insurance, Toyota Fortuners, Ford Rangers, VW Polos and Toyota Hilux's are considered high-risk vehicles for theft and hijackings.