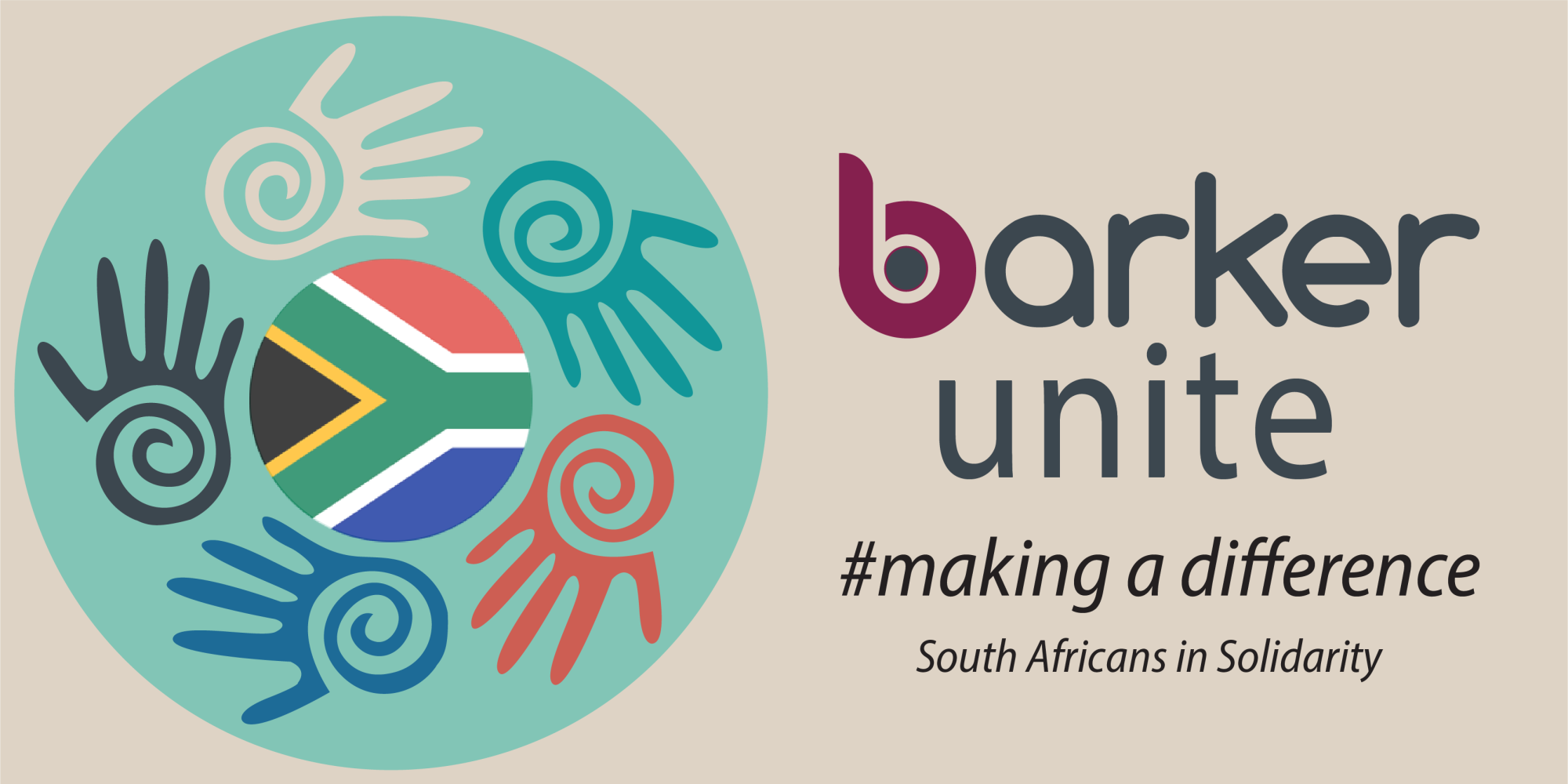 R150 000 CONTRIBUTION TO THE SOLIDARITY FUND
In our constant endeavour to uphold our fundamental values of humility, care, integrity, authenticity and loyalty, Barker has contributed an initial R150 000 to the Solidarity Fund.
We would like to salute our incredibly loyal clients, colleagues, partners, service suppliers, families and communities. It goes without saying that Barker's donation would not have been made possible without you all. It is because of you, and your unwavering support over the years, that we are able to empower others through this crisis, making you a considerable component of this extraordinary initiative.
That being said, this initial contribution will be made on behalf of all of you. We are so proud to call you members of our Barker family.
Rhett Barker, CEO, Barker Insurance, states,
"We are extremely proud and encouraged to have Adi Enthoven, our very own Hollard Chairman, sitting as the Funds deputy chair, alongside well-respected chairperson, Gloria Serobe. We have the utmost faith that these funds will be allocated appropriately to help all South Africans make it through this medical and economic crisis."



SOUTH AFRICANS IN SOLIDARITY
Through collaborative efforts, our nation, its people and organisations have united by offering to assist in confronting this current crisis, and the Solidarity Fund is a vehicle that has been established to facilitate these honourable and selfless efforts.
The Fund strives to prevent the proliferation of the virus by supporting initiatives to 'flatten the curve', thereby reducing the rate of infection. In addition, the Fund aims to detect the disease, as well as care for those under medical supervision and support all those whose lives have been adversely affected by the pandemic at hand. The Fund will operate through an independent board and will be administered by Old Mutual, while auditing firm EY and law firm Edward Nathan Sonnenbergs (ENSafrica) have developed a framework that will ascertain how and where donations received are disbursed, ensuring total transparency of all operations.
Barker wholeheartedly encourages those individuals or organisations who find themselves in a position to contribute, to be part of this transformational campaign to support our rainbow nation. By coming together, we can defeat this disease and begin restoring our beautiful nation, making us stronger than ever before. If you wish to donate, you can do so here.
Individualism has no place in a pandemic. What a beautiful thing it is to see fellow South Africans come together for a common goal. We might be physically separated but we are definitely more united now than ever before.
Our thoughts and prayers are with you all.

Best wishes,
Rhett Barker
CEO